Atova International Incorporated
2452 N. Harlem Ave.Elmwood Park, IL 60707
Phone: 708-452-9982 Fax: 708-452-8331
www.pavantools.com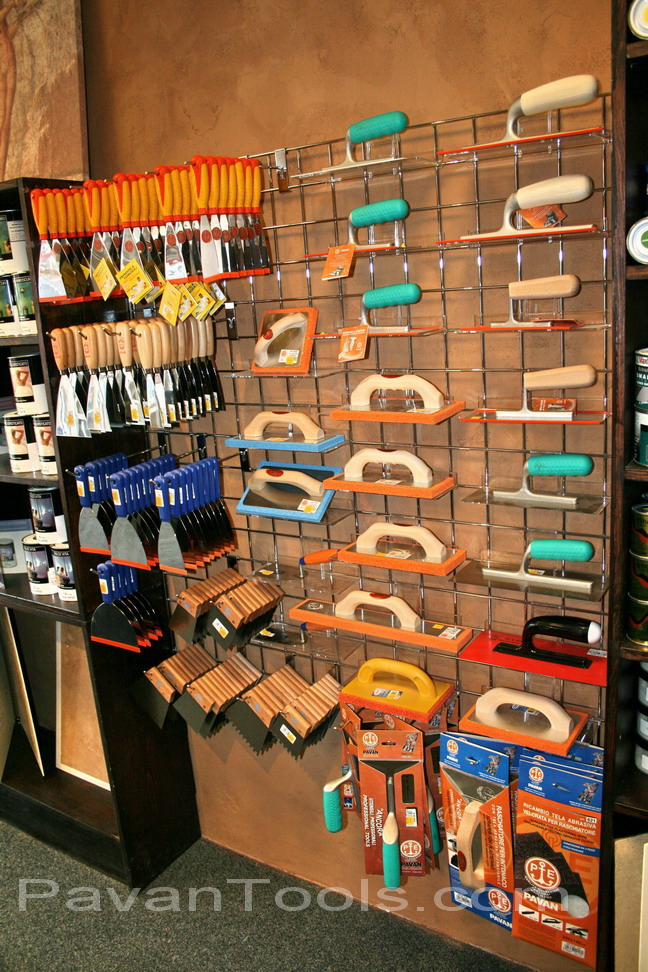 Atova International is official distributor of Pavan tools. We are your online source for all types of Venetian plasters, and decorative plastering tools.
PAVAN produces the widest range of spatulas and trowels in the market today. The variety of its range can satisfy all professional uses. Handles are made with selected types of wood (beech, acacia), to obtain better resistance. Tempered steel blade of variable thicknesses. Flexibility and toughness are guaranteed in each job for best results.
"Ancora" trade-mark by Pavan, Leader for 140 years in the production of professional high quality tools, has realized this indispensable case to protect, as a coffer, our jewels that professional users hold in their hands in the ancient art of application of Marmorino and Venetian Stucco. You can personalize the kit at your convenience and tools are available either with wood handle or with soft grip Sintesi handle.
Special steel welded trowels. Top ergonomics for the widest variety of jobs. Flexibility and toughness guaranteed under all working conditions. Assembly by welding is tested rigorously for load bearing and x-rayed for perfect joining. An exclusive lip process ensures the perfect application and the quality of the final polishing.
Welded or riveted special steel finishing trowels. In the sintesi model the coating of the handles is of soft and vibration resistant material. Thanks to its ergonomic shapes a highly comfortable grip is possible. To reset the grip we recommended to clean the handle, after removing the exceeding material, with a standard solvent.
SCRAPERS A wide range of tools specifically made for each specific use. All blades are made of tempered steel and are rectified for best performance. The innovative aluminum planes for plaster with oval section handles which are made of a special alloy offer a firm and ergonomic grip. Top toughness and rigidity and a lightness which was never been reached before.